Garioch Theatre Festival 2010
Rhona Mitchell School of Drama present:
"Doorways"
Performed by the Mitchell School of Drama - A brand new production devised by the company
Directed & choreographed by Rhona Mitchell
Musical Direction by Ashley Forbes
Created from the life and short stories of Lorna Moon, with Aberdeenshire Youth Theatre (Mitchell School of Drama)
From the company who devised and performed 'Our Scotland' last year, and 'Lottie' the year before, comes a brand new theatre piece, based on Lorna Moon's life and her short stories. A truly unique production, mingling stories from the collection set in North East Scotland, 'Doorways in Drumorty', the amazing life of their author and popular songs from her lifetime.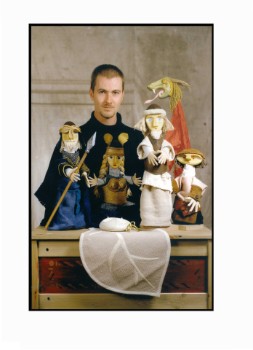 Sigurd the Dragon Slayer
The Folding Theatre Puppet Co.
Young Sigurd has a proud heritage but has never learned to fear. So he sets out to find someone who will teach him. Throughout his adventures he slays dragons and rescues maidens before finally meeting Brunhilde, daughter of Odin and learns the one emotion that no-one else could teach him. Love!
Exciting and humorous, the story weaves its way from brash childhood to adult maturity as Sigurd learns to grow and adapt to an ever-changing world.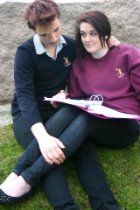 Lovers : Winners
by Brian Friel
Banchory Academy Drama
Mag and Joe are 17 years old, just a few weeks from their school exams, from their wedding and a few months from parenthood. Brian Friel weaves a bitter sweet tale of the young couple on a hill on a lovely summer's day. A funny and moving story brought to life by Banchory Academy Drama.
Directed by Graham Bett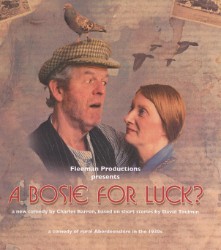 A Bosie for Luck?
by Charles Barron, based on stories by David Toulmin

Presented by Fleeman Productions.
A richly comic portrait of farm life in 1930s Aberdeenshire. Elsie was only giving them a cuddle to cheer them up but could it be that her well-meant gesture could go badly wrong? From the company who brought you 'Guts' in 2009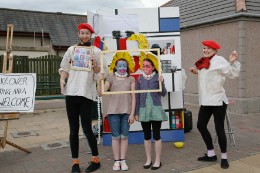 Head-To-Toe Makeover with proudExposure
Own art? Nah... Be art!!! Be transformed in to your favourite piece of modern art – Warhol's Marilyn? A geometric Mondrian masterpiece? Or even a full body Jackson Pollok? ...and take home your costume for Free!
Head-To-Toe makeover is an exciting street theatre performance with a difference. Taking influence from great works of modern art, an audience member is be transformed in to a dazzling living work of art; a costume they can then take home and reuse, all in ten minutes! Join us for fun and frolics...
............On the streets of Inverurie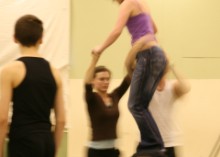 Creative Workshops
Contemporary Dance Workshop with proudExposure
... a movement workshop for contemporary physical theatre. Utilising contemporary dance techniques, teachings of physical theatre mavericks FranticAssembly and practitioner Al Seed... proudExposure explores the potential for development of work using pedestrian movement, natural gesture and individual performer characteristics. Join us for exploration, perspiration and inspiration.
Faking It with Make Up
A 2 hour workshop on how to apply theatrical make-up, focussing on ageing techniques and how to change a person's appearance, as well as basic tips and instructions on how to apply make-up for the stage.