Garioch Theatre Festival 2009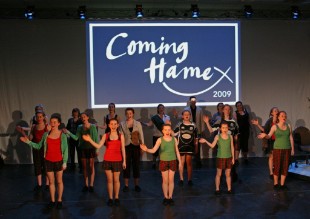 Aberdeenshire Youth Theatre
"Our Scotland"
- A brand new production devised by the company
Directed & choreographed by Rhona Mitchell
Songs by Ashley Forbes & Robert Burns.
'Wir comin by the boatload –
Wir doon the end o your road
Wir no awa tae bide awa.'
Our take on Homecoming year and all things Scottish, in the style of the nation's favourite form of entertainment – the television. Fiddles, bagpipes, sheep, castles, whisky, golf, Burns, tatties, tartan, porridge and a look at the life of the ordinary Scot.
'Funded by the Aberdeenshire Council Homecoming Scotland 2009'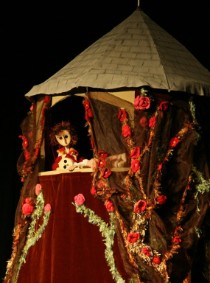 Brier Rose
The Folding Theatre Puppet Co.
When a King and Queen are blessed with a beautiful baby girl they throw a big celebration. But they forget to invite one of the fairies to the dinner. When she arrives unannounced and curses the baby girl to die the King and Queen are heart-broken.
Based upon the Brothers Grimm version of
Sleeping Beauty, Brier Rose brings together again, the Folding Theatre Puppet Co. and Joy Haynes of Banyan Theatre Co. who directed our acclaimed production The Jabberwocky.
Little Brier Rose or, Sleeping Beauty as it is now known, is one of the most enduring stories of all time, known the world over for its message of love over adversity. The Folding Theatre Puppet Co. brings the tale magically to life in its new production.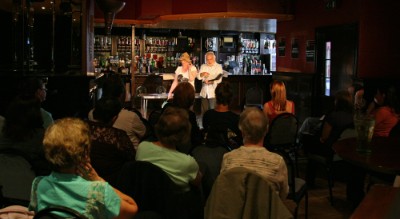 'A Pint and a Piece of Theatre'
'A Pint and a Piece of Theatre' was a brand new venture for the Garioch Theatre Festival in June 2009
The evening took place at Edwards Night Club from 7:30pm on the 25th June. It was an informal mix of new theatre work with pieces lasting anything from 4 minutes to 15 minutes.
Photography Exhibitions –
Running throughout the festival, before and after events. Wyness Garage, Inverurie
Ten years in performance:

The first ten years of performances by MSD and Aberdeenshire Youth Theatre seen in photographs

My Scotland:

Images of 'Scottishness' and Scotland seen by Short Course Photography Students from Gray's School of Art
Scotframe Community Weekend featuring:
Community Day: A chance for young people who are interested in theatre or dance to come together to create a piece of unusual theatre which will then hit the streets of Inverurie.

Contemporary Dance Class & Choreography with Ruth Kent
Stretch yourself with this introductory session, perfect for those new to Contemporary or wishing to develop technique!

Dance workshops for schools with Pam Taylor

Tiny Tales with Ruth Kent: Dance & Story Session for 4-7 year olds
Based on the children's classic tale "The Very Hungry Caterpillar"
Using games, movement & props for a fun & lively session!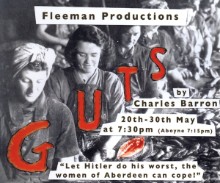 "Guts"
by Charles Barron
Let Hitler do his worst. Aberdeen's fishwives show him they have the guts to cope.
Georgie's sister is too caring, her son is too fly and her niece is too naïve for their own good. But, hey – they're family and you have to put up with them. Don't you? Muriel's young daughter is turning into a tart and her aged mother is sex-mad. But, hey – there's a war on and you have to allow some licence. Don't you? Ronnie has lost his last chance of love and Jim has lost his marbles. But, hey – that's life. Isn't it? Broad comedy and a little touch of tragedy combine in this memorable picture of Aberdeen life during World War II.
Garioch Theatre Festival 2008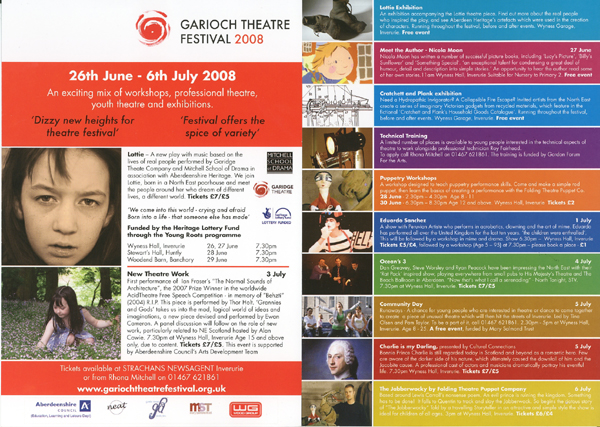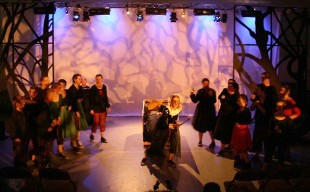 Garioch Theatre Festival 2007
'Stories ma Grunny Telt Ma'
Directed by Rhona Mitchell
This new theatre piece is an exciting new take on the blood, gore and ghosts that are the myths ,legends and Ballads of North-East Scotland and was performed by Mitchell School of Drama Performance Class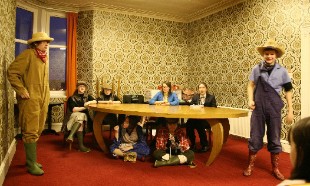 Beef Soup
Directed by Ewan Cameron
Devised and performed by
Mitchell School of Drama Performance Class
Let the cast take you on a journey round unknown territory.
Expect nothing, Anything, definitely not 'proper theatre'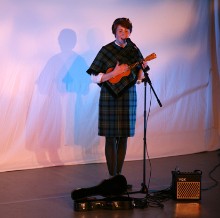 Eilidh's Daily Ukulele Ceilidh!
Performed by Eilidh Macaskill
For each and every day of 2007, Eilidh MacAskill of Fish & Game Theatre pledged to create a celebratory performance event for the world with the help of her little ukulele. Eilidh's daily random acts of ceilidh form a moveable feast of tartanry and two-steps which attempt to engage audiences in impromptu moments of celebration where they least expect it or need it most.
For Garioch Theatre Festival, Eilidh pauses for thought to share her experiences of the EDUCeilidh project so far, and to chew over the meaty questions of national identity, celebration, performance, and tiny guitars. Catch her witty blend of theatre, stand-up, music and dance before she takes the show to London and then to the New York Ukulele Festival.
Fish & Game, ''young Glasgow iconoclasts' (THE SCOTSMAN), are Eilidh MacAskill and Robert Walton. We create vibrant performance works for varied spaces and audiences. Our work explores our obsessions with the world, our place in it, its natural and unnatural wonders, and its unholy terrors.
Dance Workshops

with Preston Clare

A professional Ballet Dancer for 21 years.

These sessions combined Dance with martial arts movement with a theme of conflict.

Dance Workshop

with Pam Taylor

An experienced teacher and choreographer, continuing on the theme of conflict.

This session will be based on dances from 'West Side Story'.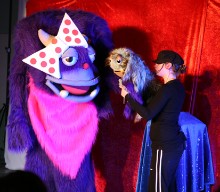 Sweet Life
The Wee Giant Puppet Company
Pan Drop looks different from all his classmates.
His nose is too small, his legs too short, his ears too big, and his hair too blue. All he wants to do is fit in. Then one day he meets Sour Plum, a giant monster who is different too, and they set out on an adventure to change themselves, which leads to a few surprises on the way.
Douglas McBride

Theatre Photography

Over the last ten years Douglas has created a library of images documenting many of the most memorable moments from Scottish theatre from some of Scotland's leading theatre companies, including Theatre Babel, The Royal Lyceum Theatre Company, Dundee Rep, The Tron, The Citizens, Pitlochry Festival Theatre, Scottish Dance Theatre, Suspect Culture and Theatre Cryptic. This exhibition contains the finest photographs from this archive.

Born and raised in Glasgow, Douglas McBride studied photography at Napier College. He worked in advertising for many years winning many international awards, but it was the influence of Graham Mclaren, Artistic Director of Theatre Babel that led to the photographing of theatre becoming a passion.

He is proficient in every format and uses the best of digital equipment. His portraiture appears in publications worldwide, and has been commissioned to create landscape images for many of Scotland's leading corporate bodies.

Images from the North East
Garioch Theatre Festival 2006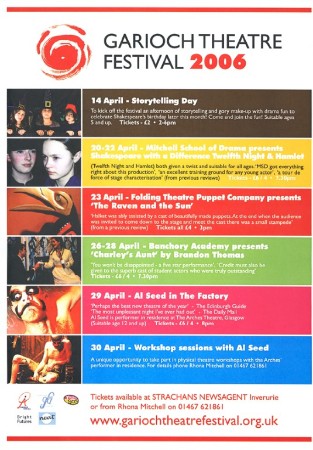 Twelfth Night
by William Shakespeare
Directed by Rhona Mitchell
Performed by MSD Performance Class
A 'Twelfth Night' with a difference.
We are not always what we seem.
Confusion, disguises, japes, love, passion and revenge.
Add in your favourite songs from the 1930's and 1940's and prepare for a lively night.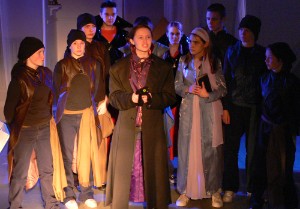 Hamlet
by William Shakespeare
Directed by Ewan Cameron & Rhona Mitchell
Performed by MSD Performance Class
A fast and furious take on the dark tale of the Prince of Denmark's revenge for his fathers murder.
involving death, madness, love, revenge and.....well, death.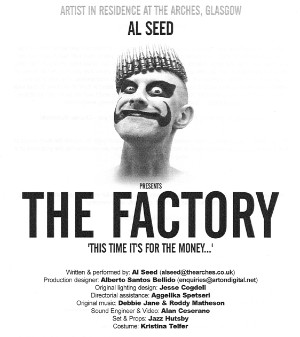 Al Seed in
"The Factory"
The world is a factory where everything is quantifiable and tradeable. War, being the most expensive business, is the best business: Invest your son... The Factory is about all of our participation in violence: having a bank account, a suit and tie, a TV. Al Seed draws on buffoon, dance, mime and stand-up to tell a
brutal and hilarious tale based upon recent events such as the London bombings, all set to an explosive original electro-sountrack. Not suitable for younger children...
Al Seed is a founder member of Bristol-based Hoax Productions, winner of a Fringe First 2004 and a Jerwood Foundation Award 2002 for 'Raw Beef'. He is also the artist in residence at the Arches, Glasgow. The Factory toured throughout 2006, including a run at the Edinburgh Festival Fringe.
Raven and the Sun

by Folding Theatre Puppet Company

A TRADITIONAL TALE FROM NORTH AMERICA ABOUT A TIME WHEN THE WORLD WAS DARK AND COLD BECAUSE THE SUN WAS KEPT CAPTIVE BY A GREEDY INDIAN CHIEF.

HOW WILL THE SPIRIT OF THE RAVEN RETURN LIGHT AND WARMTH TO THE WORLD? CAN THE RAVEN OUTWIT THE CHIEF?

THE TALE IS TOLD WITH PUPPETS THAT REFLECT TRADITIONAL ART FORMS OF NORTH AMERICA.

Charley's Aunt

by Brandon Thomas

Performed by Banchory Academy Drama Department

Directed by Graham Bett and Allan Dunbar

"...You won't be disappointed. A five star perfomance!"

"Credit must also be given to the superb cast of student actors, who were truly outstanding"
Garioch Theatre Festival 2005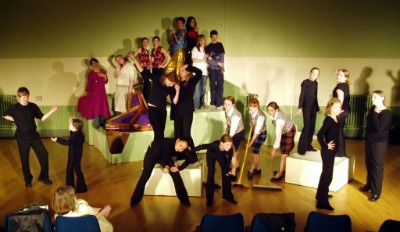 The Invergroovie Game
A brand new show devised by the company!
Directed by Ewan Cameron and Rhona Mitchell
This cast of twenty one 11 - 18 year olds have used their local town, Inverurie, as a starting point for a piece that takes them to a strange new world.
The players play a dangerous game - a game they've played already. This game has to end. Join them on their journey through Invergroovie, where helped by Treasure and hindered by Lady Luck, they try to put an end to it before one of them gets lost forever.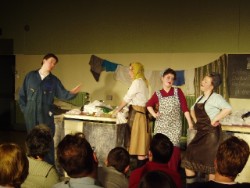 The Steamie
by Tony Roper
Directed by GRAHAM BETT
with students from THE RHONA MITCHELL SCHOOL OF DRAMA
THE STEAMIE is Licensed by arrangement with The Agency, 24 Pottery Lane, Holland Park, London.
Splinters Productions

"For The Islands I Sing"

by George Mackay Brown

The voices of crofter, fisherman, innkeeper and tinker; women negotiating love, birth and death; the sound of the sea, the wind in the barley, and the crystal silence of the frostbound stars. These are the island dramas of George Mackay Brown, poet, storyteller and playwright.

In this Splinters premiere, the humour, mystery and melody of Brown's vision are brought together in a concentrated sunburst of dramatic voices.

For The Islands I Sing is an Under Milk Wood for the north, and a celebration of Mackay Brown's Orkney, for the world stage.

John Shedden, Finlay McLean and Anna Hepburn provide a quality cast in the best of Scottish stage acting traditions. The show is devised by the company with Literary Director Donald Smith, and toured in association with the Scottish Storytelling Centre.

By kind permission of John Murray (Publishers) Ltd.

Blueboat Productions

present

Utter Nonsense

Join TumTumTinker as he tells the tale of Uncle Henry, a scientist who wanted more than anything else in the world to become rich and famous. He worked so hard to get rich, he worked so long to become famous, he lost his Sense of Humour!

Without a Sense of Humour, Uncle Henry couldn't dance, couldn't smile, couldn't laugh! In desperation, Uncle Henry hopped aboard his magic wheelbarrow to search the Ocean of Imagination. There he meets Horace the Handsome Slug, a bug who became a star in Hollywood, but at what terrible price? Next he meets Dougie the World's Richest Duck, who battled ice, fire and the Abominable Snowman to rescue the princess (and get the reward!) only to discover friendship is better than money. Finally he encounters a very diminutive Sigmund Freud, who takes Uncle Henry on the most dangerous journey of all, into his own brain!

Written and performed by Mark Pencak, with set design by Eliza Gilchrist, Utter Nonsense is seriously silly family fun, featuring puppets, pop-up illustrations, special effects and a magic wheelbarrow. Designed for families and children aged 4 to 10.
---