Press Cuttings & Reviews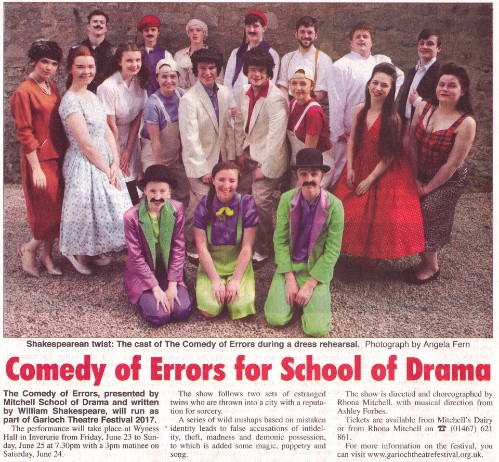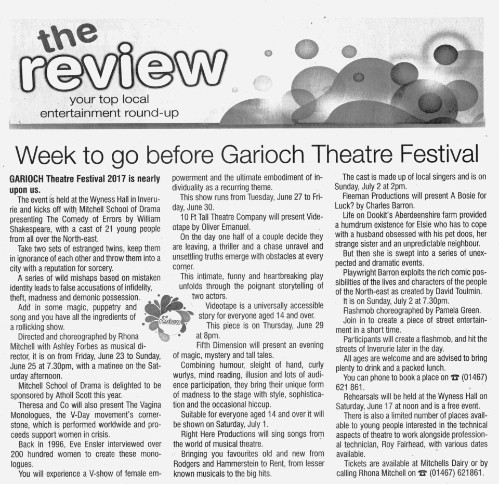 2015................................>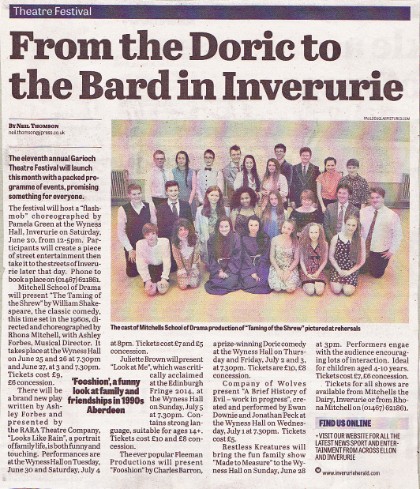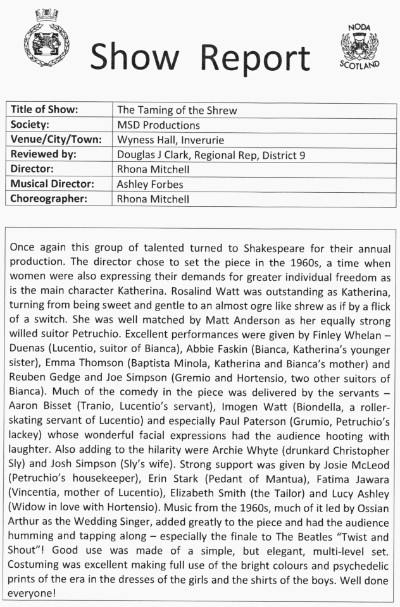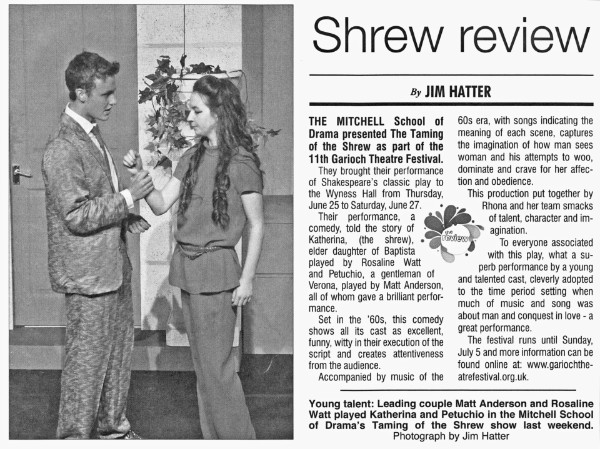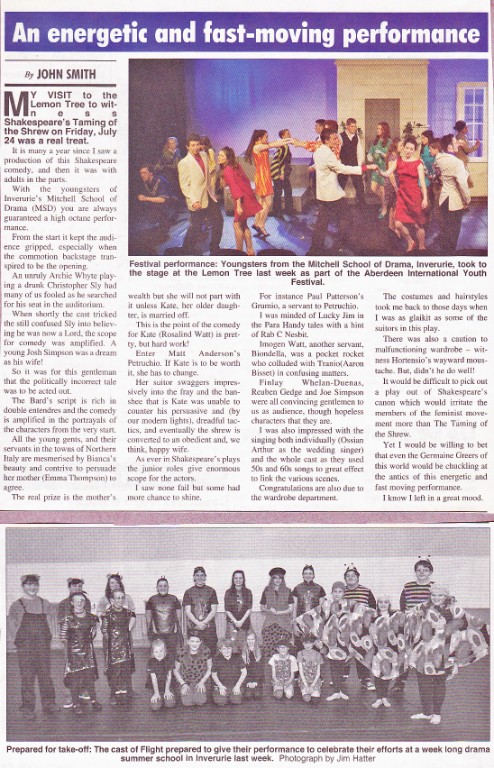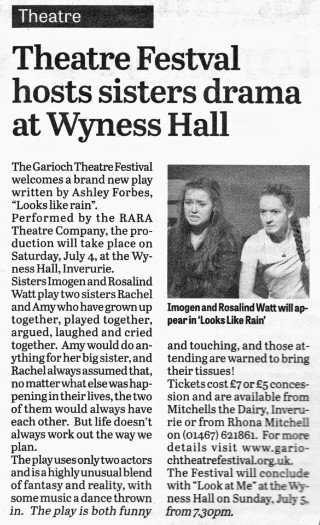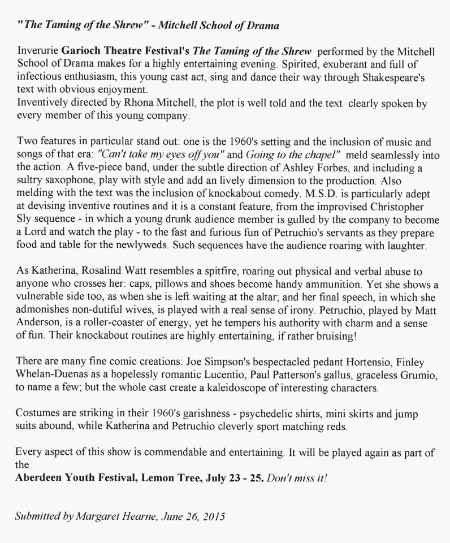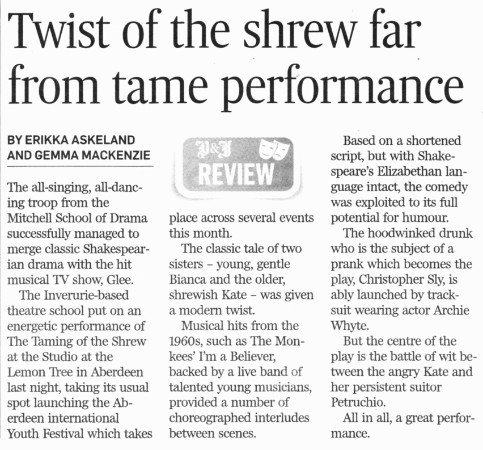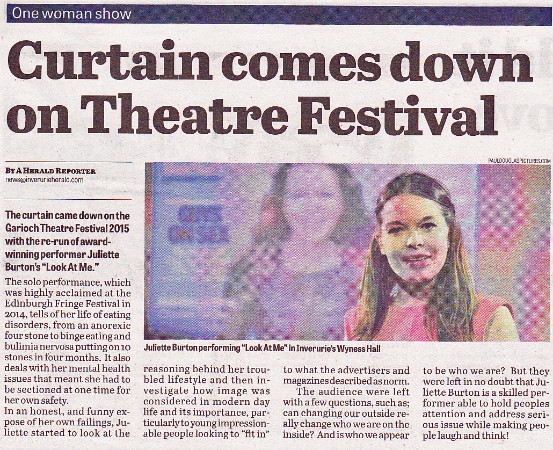 2014................................>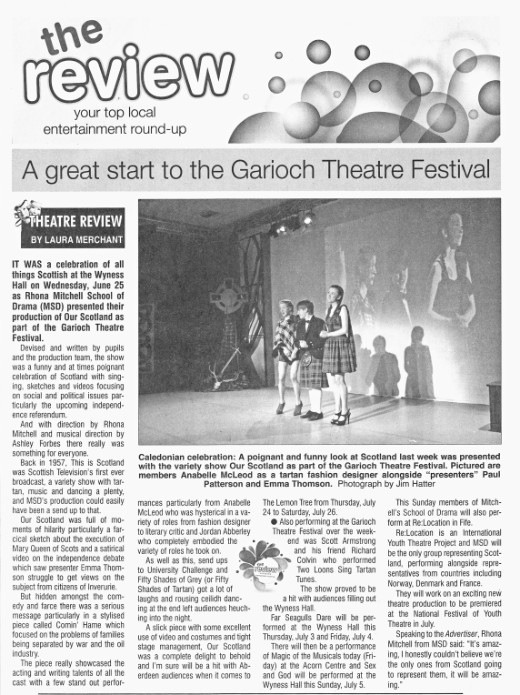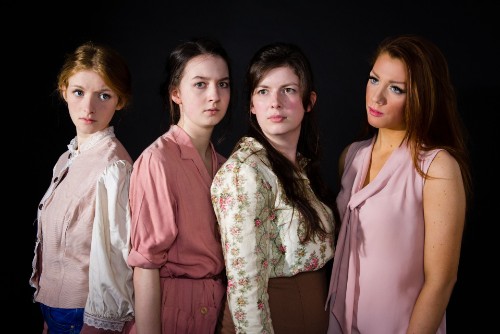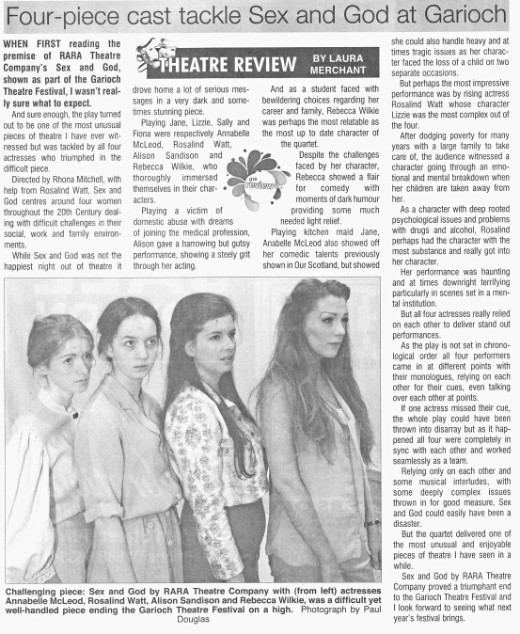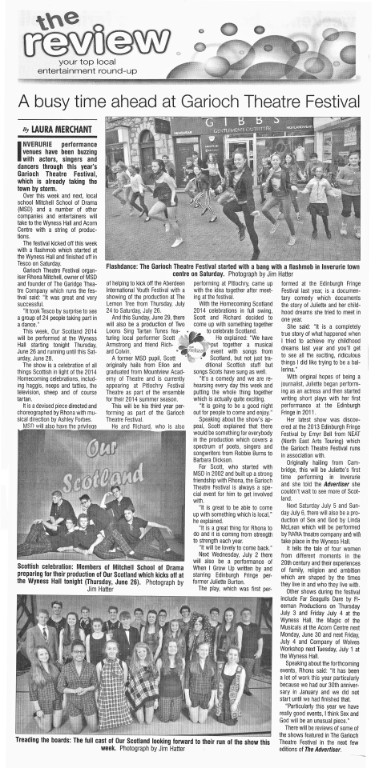 2013....................................>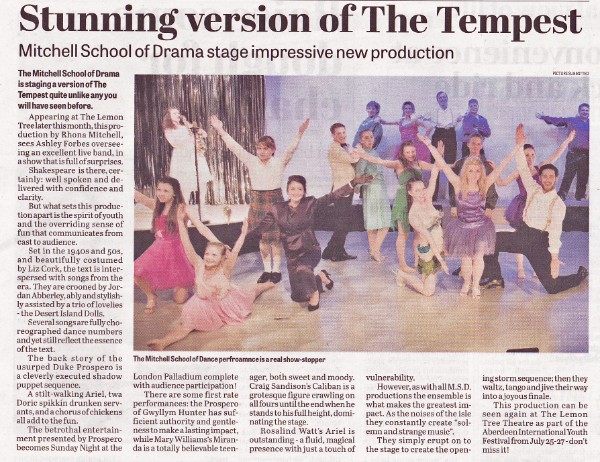 The Tempest
MSD Productions
Once again this talented group of youngsters brought us an innovative and entertaining version of one of Shakespeare's classic plays about murder plots, revenge and love. Clever use of screen puppetry and "Big Band" era music, using a crooner and backing singers, was made to move the story along. Also there were tributes to "Sunday Night at the London Palladium", including a "Beat the Clock" game with contestants drawn from the audience, and "Strictly Come Dancing" including an excellent Latin and Ballroom dance finale from the whole company. Gwyllum Hunter as Prospero, Duke of Milan gave a commanding and aristocratic performance throughout. Craig Sandison's animalistic and athletic performance as the Duke's Savage and deformed slave Caliban was nicely balanced by Rosalind Watt's graceful and balletic performance as the spirit Ariel. Imogen Watt and Paul Patterson, as the Doric speaking servants Trincula and Stephano, brought gales of laughter from the audience with their every appearance. Strong support was given by Mary Williams and Joe Simpson as the young lovers Miranda and Ferdinand, Finley Whelan-Duenas as Alonso, King of Naples, Elizabeth Smith and Zoe Stark as the sisters of Alonso and Prospero respectively and Meg Moir as Gonzala, counsellor to Alonso. Mention too must be made of Jordan Abberley as the Crooner/Presenter and his backing group the Desert Island Dolls ( Lucy Ashley, Alice Foulis and Annabelle McLeod) whose delightful singing added much to the enjoyment of the evening. With simple, but effective, set and lighting, colourful costuming and backing from the five piece band, the whole production was excellent. Well done everyone at MSD Productions for another first class show.
Douglas J Clark, Regional Rep
NODA Scotland
2012....................................>
Twelfth Night - MSD Productions
Once again this youth company decided to put their own stamp on to one of William Shakespeare's classic plays and came up with delightfully refreshing piece. The use of colourful animations projected on to the back wall of the pure white set and the the singing and dancing Illyria Girls helped carry the story along well. Rosalind Watt as Viola/Cesario was excellent in the double cross-dressing main role. Oliva Watt as Countess Olivia made the transition from deep mourning sister to coquettish, love-seeking maiden a joy to watch. Jordan Abberley, as Olivia's lovelorn and much put upon steward Malvolio, gave a delightfully humorous and over the top performance. Strong support was given by Finlay Whelan-Duenas (Sebastian), Alex Duncan (Orsino, Duke of Illyria), Eilidh Bett (Maria, Olivia's servant), Elijah O'Connor (Sir Toby Belch), Joe Simpson (Sir Andew Aguecheek), Imogen Watt (Feste, the fool) and Alice Foulis (Fabian). Well done everyone!
Douglas J Clark Regional Rep District 9 NODA Scotland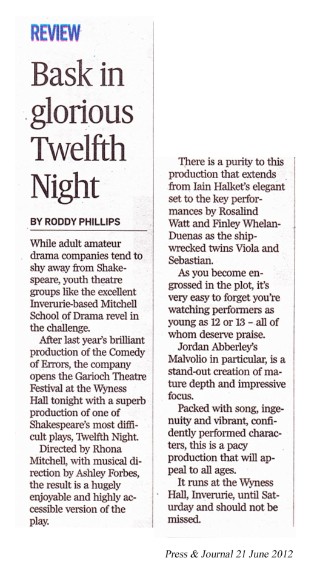 DATE : 21 June 2012
GROUP Mitchell School of Drama
EVENT: Shakespeare "Twelfth Night"
VENUE: Wyness Hall, Inverurie Review: John Smith - Inverurie Advertiser

The young actors of the Mitchell School of Drama have pulled off yet another highly polished and totally enjoyable performance in their contribution to the 2012 Garioch Theatre Festival. They tackled William Shakespeare's Twelfth Night, at the Wyness Hall, Inverurie ( I was there on 21 June). Producer/Director Rhona Mitchell brought many intriguing touches to the Bard's popular comedy. In my estimation this allowed the farce to retain much of its original nonsense and yet also made many connections to the modern world.
The story in brief is that siblings Sebastian and Viola endure a shipwreck. Viola(Rosalind Watt) is thrown up on a beach at Illyria. Thinking her brother drowned and she now alone, she disguises herself as a boy (Cesario) and joins the court of Count Orsino(Alex Duncan in an almost Wildean role!). He uses Viola/Cesario as a ploy to try to get the attention of Countess Olivia (Olivia Watt) whom he loves (fancies is probably more true). The first of the many complications is that the countess herself becomes attracted to Cesario. But, Cesario is falling for the Count, her boss, who even though he understands Cesario to be a boy, is himself getting drawn to him/her!
When later Sebastian (Finlay Whelan-Duenas) eventually arrives at Illyria he is apparently so like his sister in dress and looks that all parties in the play confuse the two, and chaos ensues. The audience has to suspend a little belief here! Of course everything comes right in the end.
A side plot involves Sir Toby Belch((Elijah O'Connor) and Sir Andrew Aguecheek (Joe Simpson) who might be termed drunken Posh Lads with more money than sense, the countess's steward Malvolio(Jordan Abberley) and Maria the servant(Eilidh Bett), Feste the fool (Imogen Watt) and Fabian the gardener(Alice Foulis). In this group jealousies, avarice and competition all contrive to allow for fabulously funny scenes in which all the characters gave vent to the many possibilities for comic portrayal. Jordan's over the top creep when in the ascendant and desperately miserable self-pitying on the down was simply great (incidentally he has a rather good singing voice). Equally the skills and timing by Feste the fool were impressive and enjoyable. Newcomer Elijah O'Connor showed great promise in a part which I understand he came to at rather short notice.
Helping the story along were the Illyria Girls (a nine strong choir which looked a composite of Girls Aloud/Spice Girls and any other number of current girl bands). They tweeted on their phones, sang pop favourites which were apposite to the situations, and reacted with OMGs, LOLs and the hysterical squeaks and noises which modern teenagers are wont to punctuate all their conversations, to the various situations they were witnessing. All this, which could have been distracting, melded into the play with remarkable and satisfying ease. The graphics which accompanied the performances brought modern b_ehaviour even further to the fore. It is only fair to congratulate the musicians and the rest of the production team which seemed to make much out of not an easy venue.
There were other minor characters ,Orsino's men, Antonia the pirate, the Captain and the Vicar who by their interpretation of their roles added to the drama and the fun. By dint of the size of the part and its complications I would want to congratulate Rosalind on the way she played Viola/Cesario. I was impressed. Shakespeare subtitled the play "What You Will". For me, with the three sisters (Rosalind, Olivia and Imogen) this was almost Watt You Will! The show is appearing at the Lemon Tree Theatre Aberdeen on 1-3 August. Please go to see it.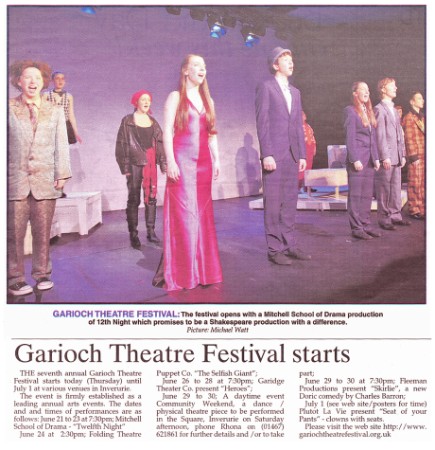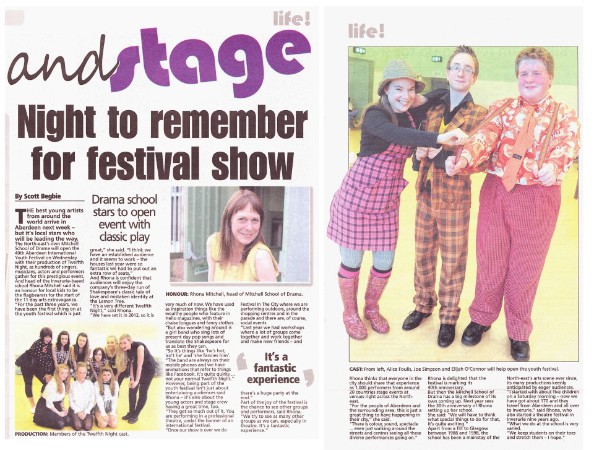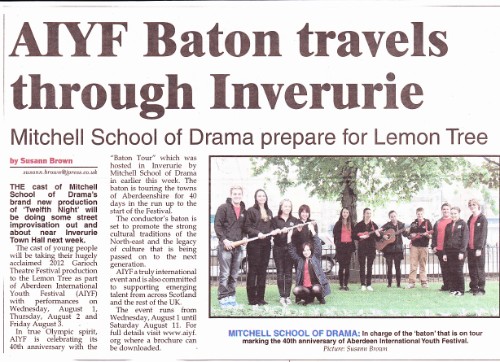 | | | |
| --- | --- | --- |
| | | |
| Description-text | | Description-text |
2011....................................>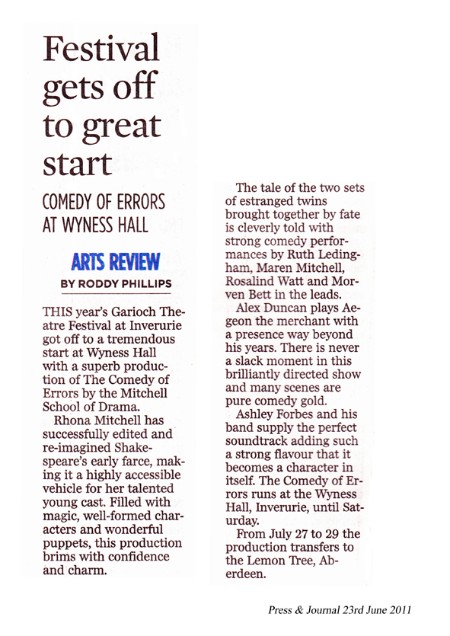 NODA review - June 2011
This adaptation of one of Shakespeare's early plays used puppets, magic and music, along with the Bard's words, to tell the story of two sets of estranged twins. The costuming of the cast in 1950's style allowed music of that era to be used very effectively in the unfolding of the story. Ruth Ledingham and Maren Mitchell as twins Antipholus of Syracuse and Ephesus respectively gave excellent performances. Rosalind Watt and Morven Bett as Dromio of Syracuse and Ephesus respectively, their twin servants, also gave excellent performances with their comic antics eliciting lots of laughter from the audience. Strong performances were also given by Olivia Watt (Adriana) and Danielle Fentiman (Luciana) as the love interests of the Antipholus twins. The performances of each of the 20 young people in the cast- from lowly kitchen maid to high born Duke – were exemplary. Well done all at MSD Productions for another excellent show.
Douglas Clark
NODA Scotland
2010....................................>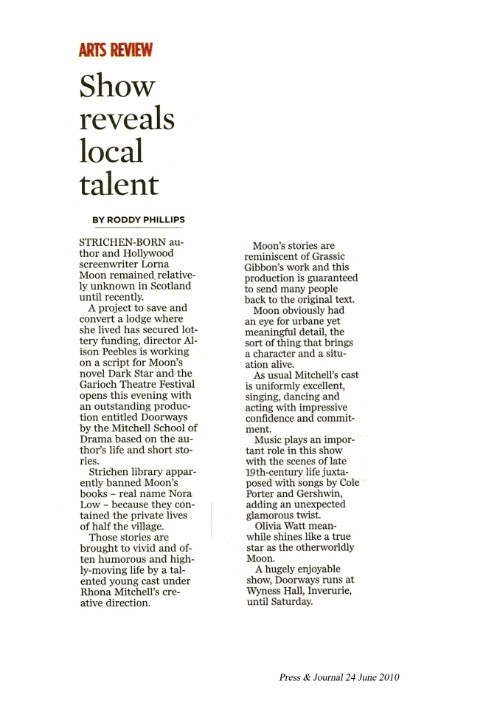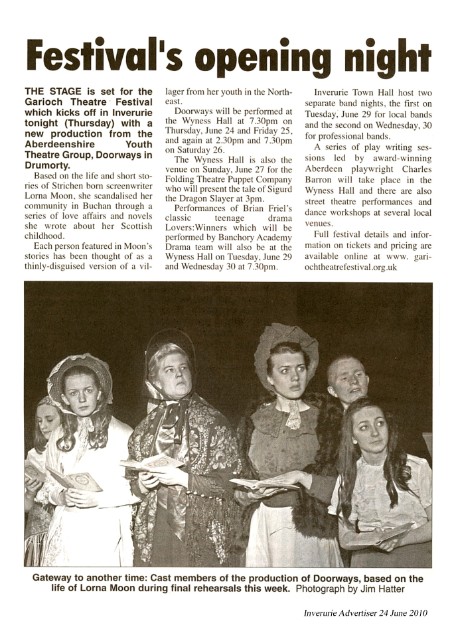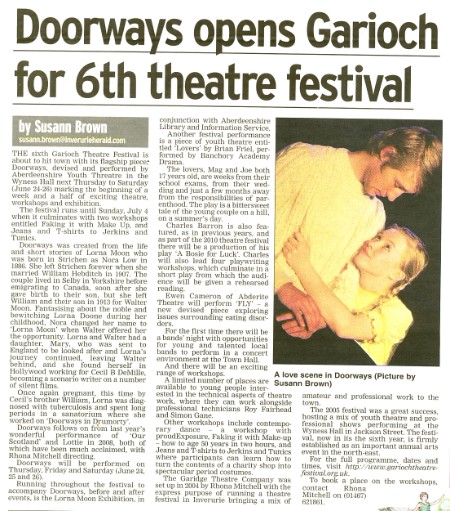 Inverurie Herald

Inverurie Advertiser 1st July 2010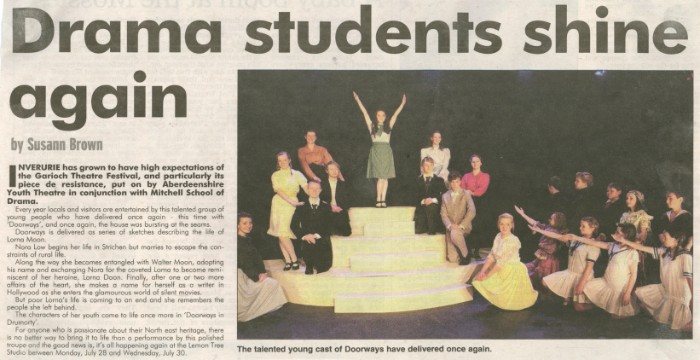 Inverurie Herald 1st July 2010

2009....................................>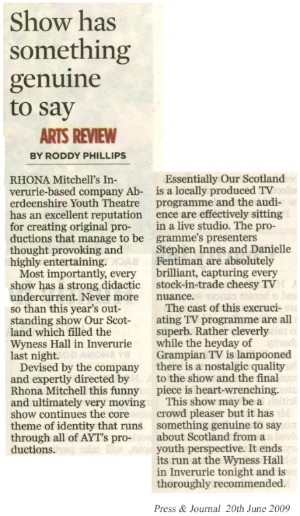 MSD Productions Our Scotland 18-20 June 2009
Director/Choreographer: Rhona Mitchell Musical Director: Ashley Forbes
This show, devised and written by the company, took the form of a television magazine programme. Complete with hosts, celebrity guests, food and fashion features, schools quiz final, weather girls, bagpipes, fiddlers and scottish country dancers it was a tongue-in-cheek tribute to both modern shows and shows of the past like the White Heather Club. The cast without exception were excellent. Holding things together were Stephen Innes and Danielle Fentiman as the good looking,charming tartan clad hosts. Among the many characters portrayed mention must be made of Claire Gauld as The Rhyme Quine and Alison Telfer as the winner of reality show "Big Grunny". The finale was a humorous but touching telling of the story of Mr & Mrs Ordinary from their births to the death of Mr Ordinary, with a backing of songs by Robert Burns. With original songs by Ashley Forbes and excellent choreography this was a most enjoyable evening.
Douglas J Clark (NODA Scotland)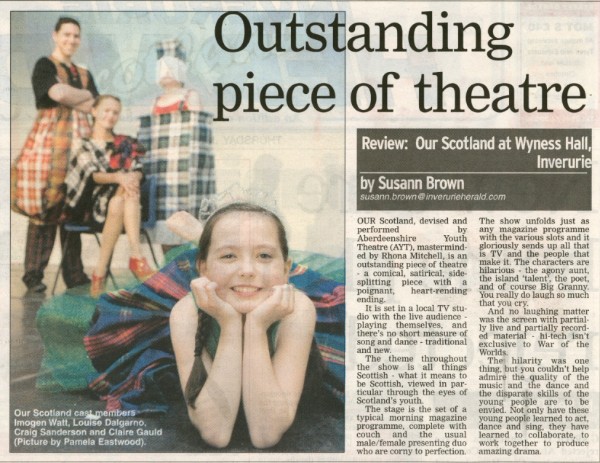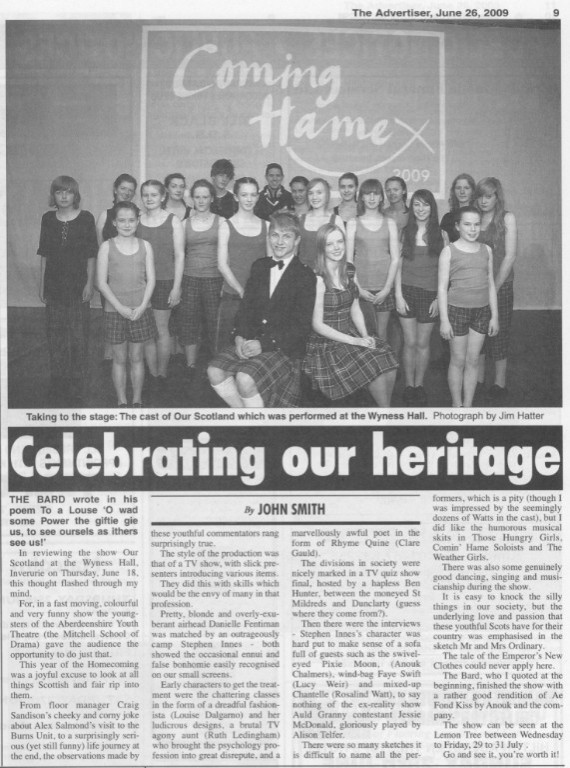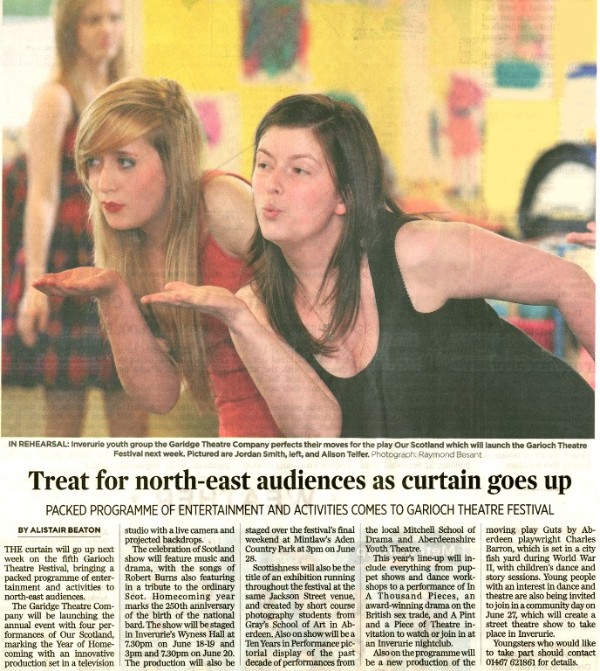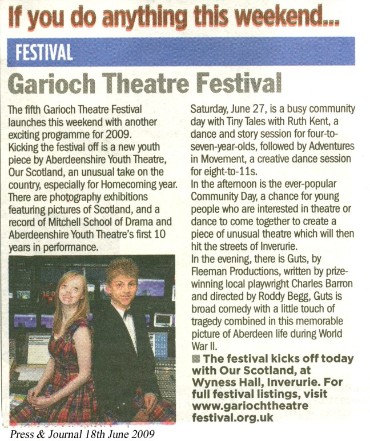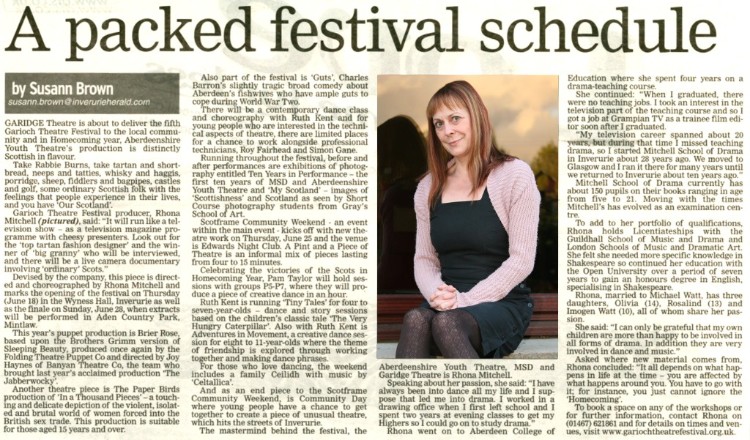 2008....................................>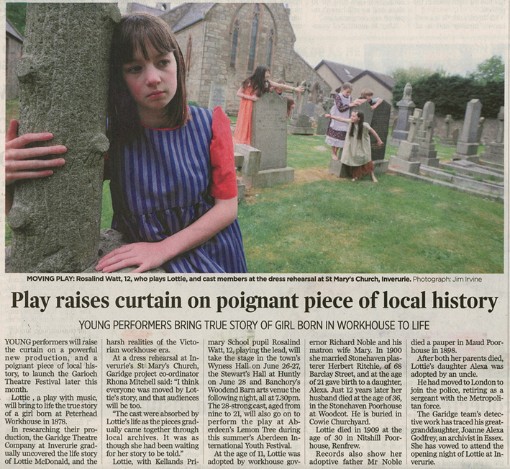 Press & Journal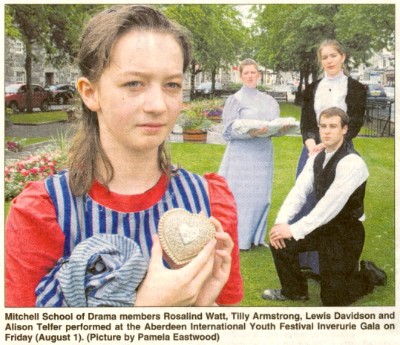 Inverurie Herald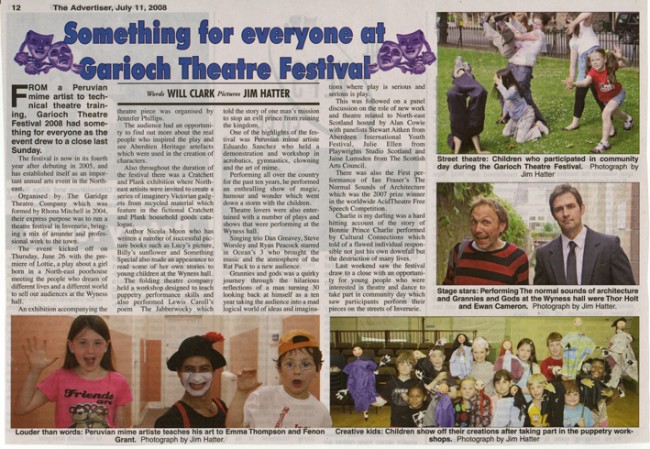 Inverurie Advertiser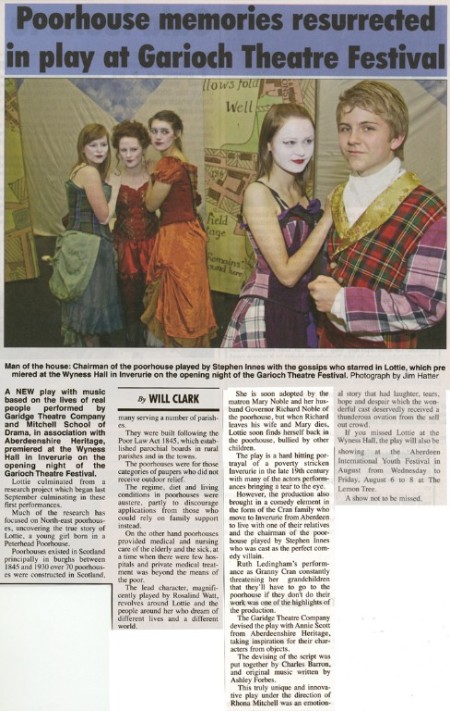 Inverurie Advertiser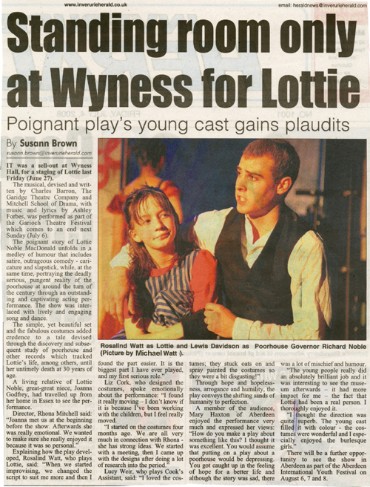 Inverurie Herald