Shakespeare's Fool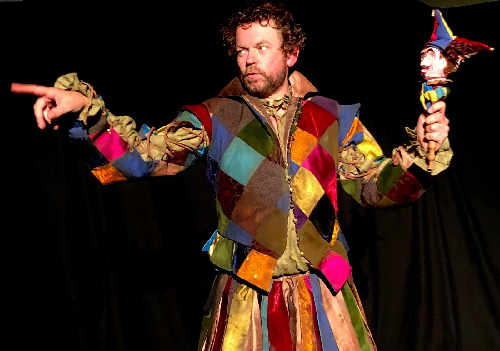 Gentleman player, juggling jester, headmaster of Morris dancers and London's finest clown, until...he fell out with Will 'git-face' Shakespeare. Kempe died alone and poverty-stricken, not very far from the original Globe Theatre, of which he was an original shareholder and faded into obscurity; a world away from his former life having supposedly originated some of literature's best-known characters, including Bottom, Dogberry, and Falstaff.
Join 'Cavaliero' Kempe on the streets of London as he gives his final performance to an audience of a mouse and a marrote and tells the tale of his life, his rise to stardom and what really happened between him and William Shakespeare.
This one-actor show, starring Robin Leetham premiered at the Edinburgh Fringe in 2021 and received rave reviews from critics and audiences alike.
A bittersweet tale, told by an idiot.
BROADWAYBABY.COM
"SHAKESPEARE'S FOOL IS AN ECONOMIC, CLASSY PIECE DIRECTED ROBUSTLY BY BEN HUMPHREY AND BROUGHT TO LIFE BY A MULTI-FACETED LEETHAM WHO EMBRACES THE TEARS OF THE CLOWN..."
★★★★
THEREVIEWSHUB.COM
"ROBIN LEETHAM RETURNS KEMPE TO VIVID LIFE...ENTIRELY BELIEVABLE AND LIKEABLE."
Acorn Centre West High Street Inverurie
Wednesday 29th June at 7:30
Tickets £10 / £7